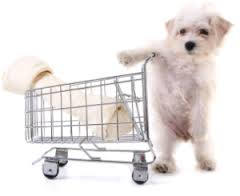 We have provided our wish list to the right, but many of the items are on our comprehensive Amazon wish list (being updated regularly) with preferred brands, sizes, quantities, etc.  And as we receive items, we will post photos on our Facebook page so you know they were received!
And don't forget, we are also offering temporary housing for pets belonging to victims of domestic violence as they are fleeing their situation so you will see many non-dog items on our Amazon list as well.
The following button will take you directly to our Amazon wish list.  Thank you so much for your support.
You can also select I Heart Dogs to receive a donation from Amazon of .5% of your eligible purchases.
Wish List
We appreciate all donations; however we are not currently in need of towels or regular bags of dog food. We have run out of space due to so many generous donations! Thank you.
Frontline Flea and Tick Control
89-132 lb dogs (for approx. 10 dogs per month)
45-88 lb dogs (for approx. 40 dogs per month)
23-44 lb dogs (for approx. 10 dogs per month)
5-22 lb dogs (for approx. 10 dogs per month)
Cat & Kittens dosage (for approx. 4 cats per month)
Capstar Flea Tablets for dogs and cats – all sizes needed
Dog shampoo – flea and hypoallergenic shampoo
Dog treats – grain free, soft & chewy, and regular biscuits
Dog bones and chewies – BIG beefy bones, bully sticks, but no rawhides please
Dog food – canned, bags puppy, and bags of grain free. We have a lot of bags of regular dog food right now.
Cat food – Purina Pro Plan canned food
Dog toys – Squeaky tennis balls (i.e. Kong squeaky balls); Nylabones; Puzzle toys (also called brain game toys); Rope toys; Stuffed animals
Slow feed bowls
Peanut butter – can not contain Xylitol
Kraft sliced cheese – only Kraft please
Hot dogs
Adaptil calming collars (sm/med/large) and spray
Greenies – large medication pill pockets
Slip leads- 6ft long
Pet safe ice melter
Band-aids and Neosporin
Laundry soap – liquid "hd" compatible
Dryer sheets
Dish soap – Dawn preferred
Paper towel
Toilet paper
Contractor size garbage bags
Clorox wipes
Hand soap
U.S. Postage Stamps
Printer ink-HP 950XL and HP 951XL
Copy paper
Walking harnesses- medium and large
Stainless steel pooper scooper
Laundry tub lint traps
Garden hoses – 20-50 feet
Hose nozzle – multiple settings
Candles – we love Bath and Body 3 wick candles!
Medium and large zip ties
Bathroom cleaners – toilet bowl, sink, mirrors, etc.
Cute matching collars and leashes