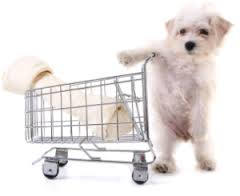 I Heart Dogs is a brand new rescue so we are starting from scratch.  We literally need everything right now!  We have provided a shorter version of our wish list to the right, but many of the items are on our comprehensive Amazon wish list (being updated regularly) with preferred brands, sizes, quantities, etc.  And as we receive items, we will post photos on our Facebook page so you know they were received!
And don't forget, we are also offering temporary housing for pets belonging to victims of domestic violence as they are fleeing their situation so you will see many non-dog items on our Amazon list as well.
The following button will take you directly to our Amazon wish list.  Thank you so much for your support.
You can also select I Heart Dogs to receive a donation from Amazon of .5% of your eligible purchases.
Wish List
Green, orange and red collars (especially orange) in all sizes

Frontline Flea and Tick Control;  45-88 lb dogs (approx. 40 applications per month);  23-44 lb dogs (approx. 10 applications per month);  89-132 lb dogs (approx. 10 applications per month);  5-22 lb dogs (approx. 10 applications per month);  Cat & Kittens dosage

Dog (small breed and regular) and puppy food – Diamond Chicken & Rice, or Costco's Kirkland Chicken, Rice & Vegetable

OdoBan multipurpose cleaner concentrate (128 oz) – best deal is Home Depot

Trifectant cleaner

Dog treats such as bully sticks, grain free, and biscuits

Nylabones

Squeaky tennis balls (i.e. Kong squeaky balls)

Puzzle toys (also called brain game toys)

Natural peanut butter

Dog shampoo

Band aids and Neosporin

Laundry detergent

Bleach

Paper towel

Toilet paper

Contractor size garbage bags

Latex gloves

Clorox wipes

Hand soap

Calming classical cd's

Stainless steel water buckets with handles